It's hard to not love "In the Heights," which is now running at the Fulton Theatre.
The show — Lin-Manuel Miranda's first show on Broadway before you know what — is overflowing with charm, humor and heart.
And like "Hamilton," it is innovative, optimistic and highly entertaining.
This Fulton production is terrific.
The ensemble cast is pitch perfect, from Diego Klock-Perez, who plays Usnavi, the bodega owner who welcomes us to his Washington Heights neighborhood, to Christopher Michael McLamb, who plays the sassy Piragua Guy, worried about Mr. Softee taking over his territory.
Every voice in this show is a knockout.
The set, designed by Paul Black, who also did a nice job with the lighting design, is wonderfully detailed, effective and realistic. I love the way the George Washington Bridge looms over the tenements, suggesting both the promise of arrival and the hope of departure to a better place.
Music director John Daniels brings Miranda's music to vibrant life and Mark Stuart's choreography keeps the story and the neighborhood moving. I sometimes thought the constant action pulled focus from some of the solo numbers, but usually it gave a vibrancy to Washington Heights.
It is the hottest day of the year, and July 4 is the next day.
Usnavi's refrigerator is broken and his cousin, Sonny (a wonderfully funny Alex Swift), has to fix it.
The rapport between Sonny and Usnavi feels lived in, as do many of the other performances.
Klock-Perez will remind you of Miranda, but in the best ways. He simply is Usnavi, not someone trying to imitate Miranda. His performance is warm and funny.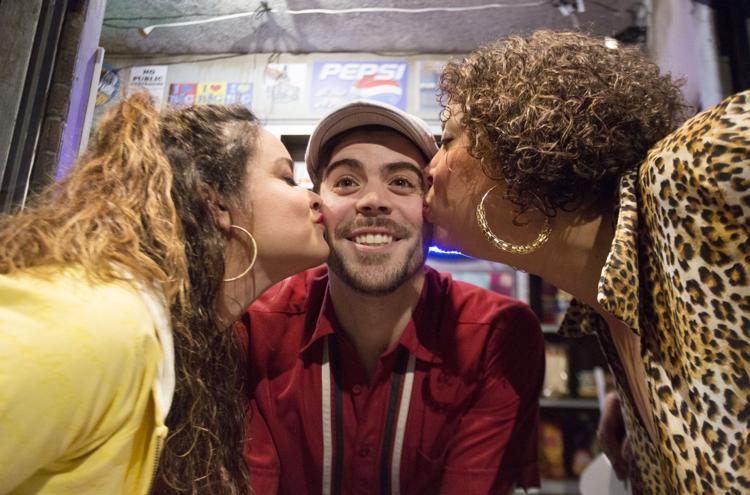 The neighborhood is in transition as gentrification begins its influence. The hair salon is moving to the Bronx because they raised the rent, but Daniela (Tauren Hagans, who also is wonderfully funny) continues to be gossip central of the neighborhood. Her employees are Carla (Gabriella Flores, who has a small role but gets a laugh with every line) and Vanessa (Kalyn West), who has bigger dreams along with some maternal baggage.
Usnavi likes the very sexy Vanessa and the two circle each other throughout the show. Their sparks are delightful to watch.
The other shop is Rosario's Car Service, run by Kevin and Camila (Ruben Flores and Melissa Blatherwick), who feel like they've been married a long time but still have passion in their lives ). They work hard but have little to show for it. Their daughter, Nina (Mili Diaz), has come home from college, but she has to tell her parents she lost her scholarship to Stanford because she had to work too many jobs to pay the bills and her grades suffered.
Benny (Daniel Yearwood) has worked for the car service for years, but Kevin is not happy he's started seeing Nina because he is not Latino.
The sparks fly between Diaz and Yearwood.
The matriarch of the street, Abuela Claudia (Debra Cardona), offers plenty of wisdom to the younger folks and in the world of this Washington Heights, they actually listen and respect her.
Oh, if only it were true in the real world.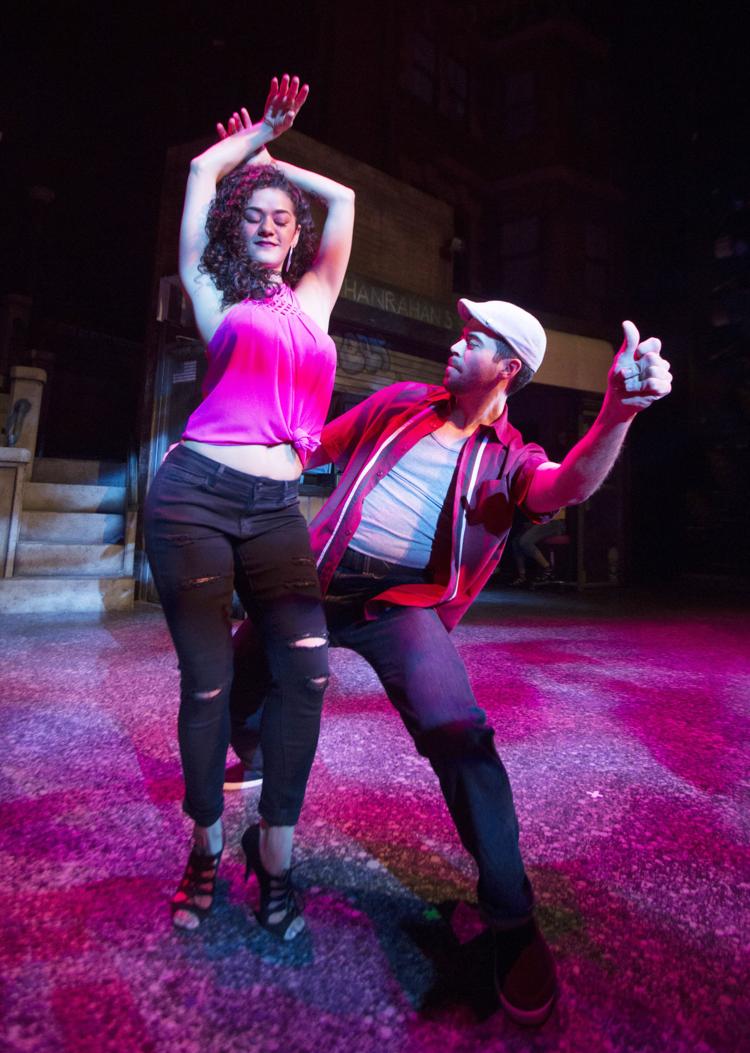 The book, by Quiara Alegria Hudes, is refreshingly free of issues or complications. These are good hardworking people — many of them immigrants — who want to live the American dream.
In the world today, when we find it easy to scapegoat and demonize some immigrants, this is wonderfully refreshing to see onstage.
And the rap and hip-hop, along with plenty of other styles of music, gives the show a charge.
Kudos to director Bob Cline for giving us such a rich and sweet show, and bringing his fine cast to great heights.