If you go to see "Disney's Beauty and the Beast" at the Fulton, prepare to be enchanted.
This huge, lavish show will dazzle you and touch your heart. That is a dynamite combination.
Director Marc Robin wanted to knock everyone's socks off and get us swept up in the story. He succeeds beautifully.
The cast is wonderful, the sets are beautifully evocative and plush, the costumes are clever and stunning, and the story itself is funny, touching and adventurous.
The lights (Jesse Klug) are used to great effect, and the video (Dan Efros) is wisely integrated into the set to enhance the castle in just the right ways.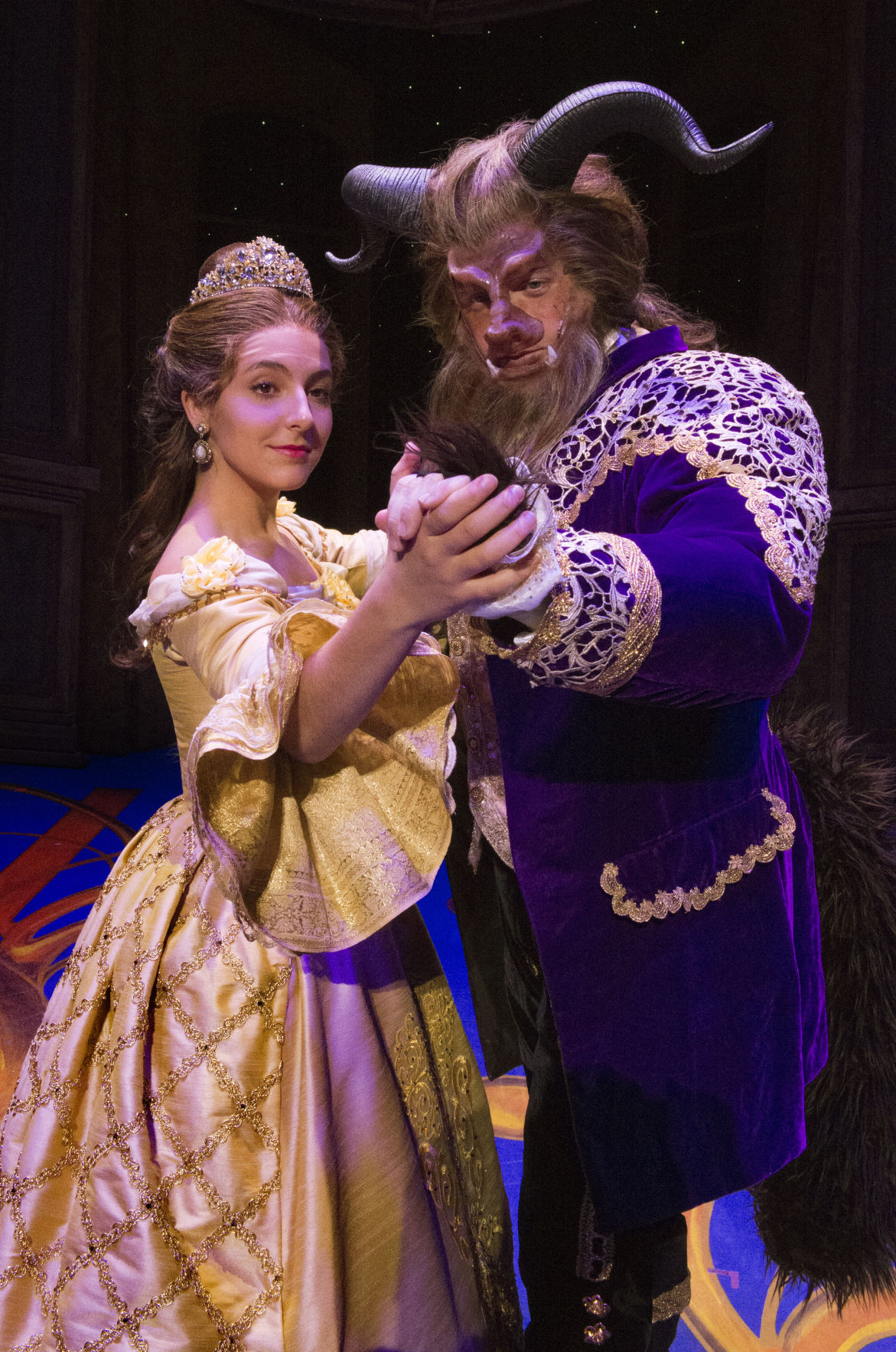 This is the Fulton's holiday show and has an extra long run through the end of December. So making it magical is essential. .
"Disney's Beauty and the Beast" is a modernized version of a classic fairy tale.
We begin by hearing the story of an arrogant prince who is cast under a spell that turns him into a hideous beast.
In order to break the spell, he must learn to love and be loved in return.
When the petals on a magical rose all drop off, he will have no way out of the spell. Nor will the staff of his castle, who were all enchanted as well.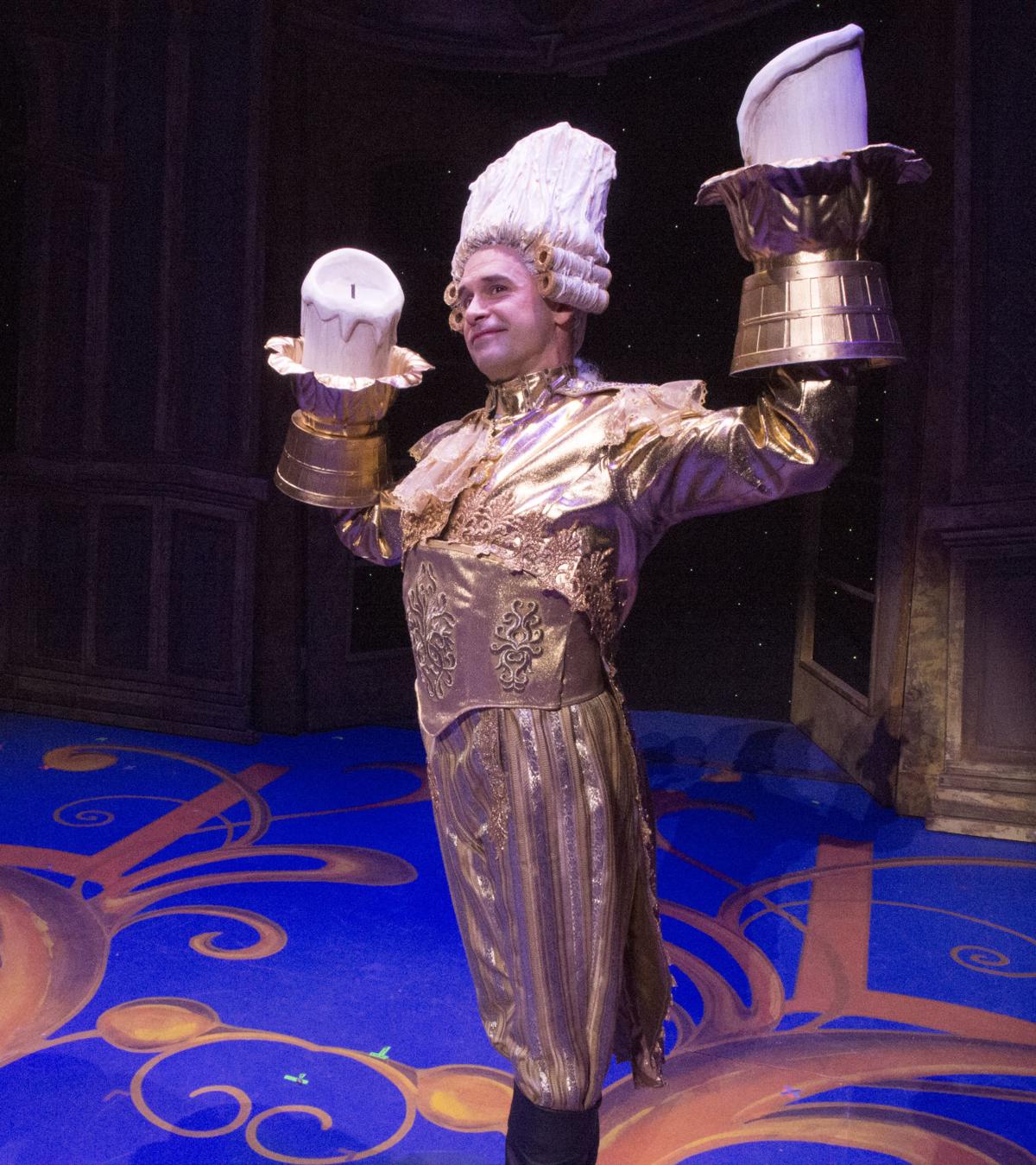 Then we meet our heroine Belle (a perfect Lexi Rabadi), a smart, sensible bookworm who dreams of leaving her small provincial town and seeing the world.
She has no interest in marrying the egotistical and awful Gaston (a hilarious Nathaniel Hackmann) and the town thinks she's very odd.
She lives with her eccentric inventor father Maurice (a charming Michael Iannucci) who is traveling to a fair in hopes of winning the top prize for his latest invention.
He gets lost in the forest and runs to a castle he sees when wolves begin chasing him. It is, of course, the beast's castle.
He is met by a charming French candelabra named Lumiere (a delightful James Patterson) and an uptight British clock named Cogsworth (an equally delightful Brian Cali).
They both worked for the prince when the spell was put on and the entire staff is turning into inanimate objects, like the candelabra and clock.
There is also Mrs. Potts (Charis Leos), who is turning into a tea pot and her son, Chip (George Boben Fenimore), who is a cup, the maid Babette (Katie Sina) who is becoming a feather duster, and Madame De la Grande Bouche (Sierra Naomi), who has become a vanity.
Everyone is an absolute delight and kudos to costume designer Ryan Moller for his wonderful sense of humor. He hit it out of the ballpark with Babette's costume, which actually moves like a feather duster.
The Beast (Matt Farcher, who is quite furry, funny and tormented) imprisons Maurice and Belle comes to his rescue, offering to stay in the castle if he releases her father.
Both the Beast and the enchanted staff know that Belle might be their chance to win back their humanity.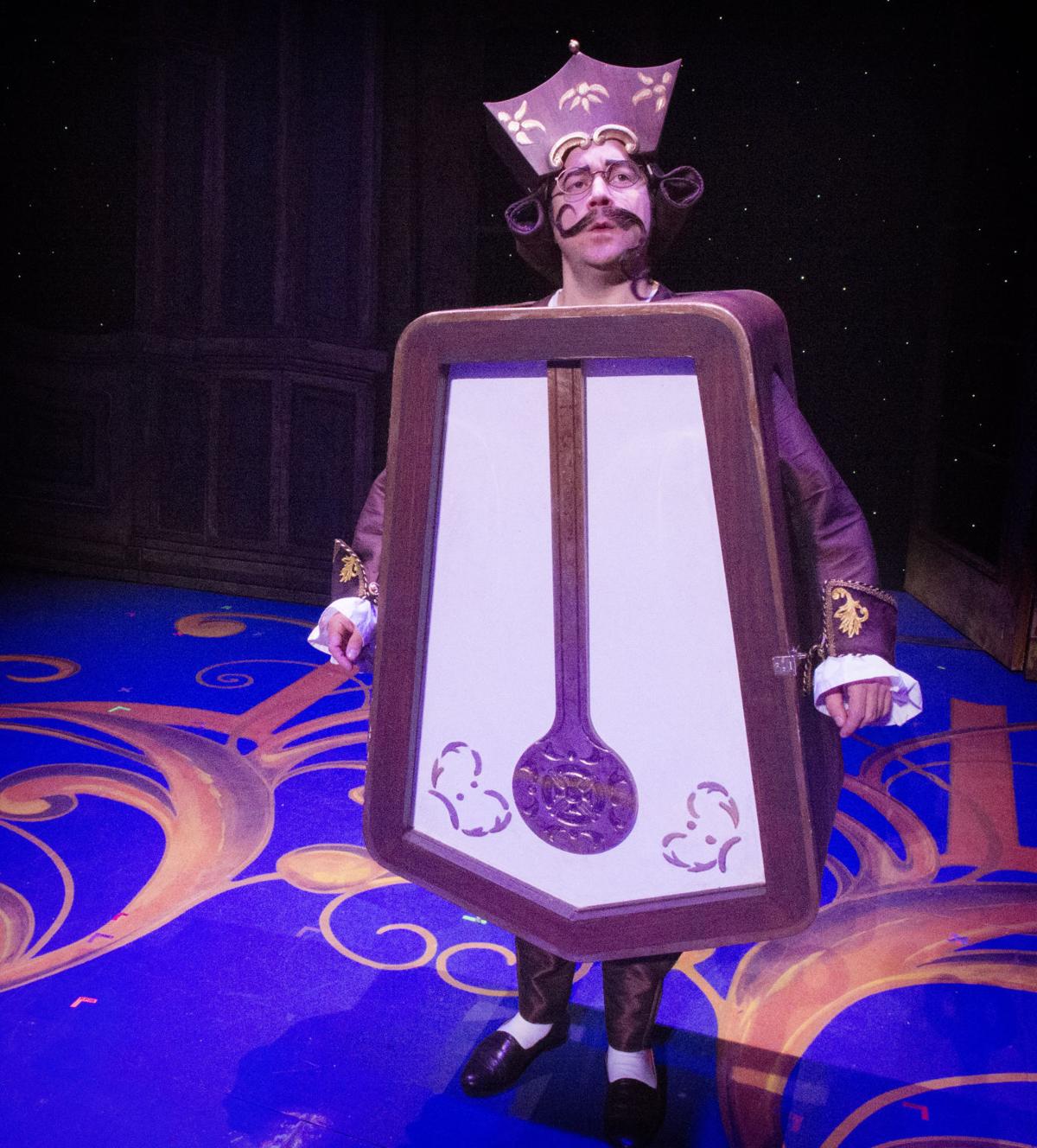 Of course it is slow going at first, until Belle and the Beast connect through books.
Meanwhile, Gaston cannot take no from Belle and devises a devious plan to get her back.
You probably know the rest, but it plays out with the right amount of adventure, humor and fear. When Monsieur D'Arque (played by a foreboding by Andrew Kindig in a great costume), arrives, the fright factor gets high.
I suspect little kids might get a bit scared of the shadowy castle and D'Arque, but scared in a fairytale kind of way. That's a good kind of scared.
There is so much to dazzle and delight them, I heartily recommend the show or kids old enough to follow the story.
This isn't just a kid's show. Like the best of Disney, it works for all ages.
My one problem with the show was the music was pitched so loudly, it was difficult sometimes to understand what people were saying or singing. Jonathan LeFever is directing an elaborate musical score that sometimes seems too busy and complicated to blend well with the unfolding story.
Director Robin likes to dazzle his audiences and exclaim just how big and expensive his productions are.
That can lead to excess, like his production of "The Wizard of Oz" a few seasons back, which got clogged up with circus performers and huge puppets that didn't need to be there .
But here, he clearly uses his resources for the right effect. Instead of trying to impress his audiences with spectacle, he invests in the depth of his story.
And the results are grand.